What's On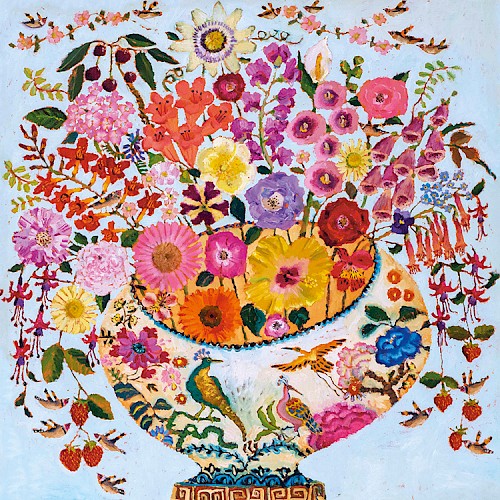 Vanessa Cooper at Eastwood Fine Art
February 2022
Vanessa Cooper has some wonderful new paintings in an exhibition at Eastwood Fine Art running from today, 25th February to the 12th of March.
For the many of us who won't be able to visit there is a short film of her work in close up on the website. The film gives a little glimpse of her studio and the way she works; a lavish mess of tubes of paint in an open drawer of a little green side table and patchworks of encrusted colours waiting on the top before they coalesce into her exquisitely detailed, joyful tributes to nature.
25th February - 12th of March 2022
The Barn Upper Manor Farm
Stockbridge
SO20 6DR
Progressive Greetings Live Show
June 2022
We are looking forward to the Progressive Greetings Live trade show in June where we will have a much bigger stand to accommodate all this creativity.
7-8 June 2022
Stand 164
The International Greeting Card Show
Business Design Centre, London
Janine Burrows at Yorkshire Sculpture Park
June to October 2022
The painter and illustrator Janine Burrows has an exhibition coming up at Yorkshire Sculpture Park called Table to Tide, a Yorkshire Conversation.
Janine has two beautiful collections with us, nineteen paintings of landscapes and interiors and twelve delightful illustrations for our new Bijou cards which we published to celebrate our tenth birthday. We love the subtlety and elegance of her work. She manages to evoke such a strong sense of place with deceptive simplicity, almost like Haiku poems. Her illustrative work has the same deft and delicate touch.
The image shown here is Hepworth garden.
11th June - 23rd of October 2022
Yorkshire Sculpture Park
West Bretton
Wakefield
WF4 4LG